LOCATION - Midway between Tel Aviv and Haifa, located on a scenic mountain-side in Zichron Yaakov, lies the Carmel Gardens Hotel, overlooking one of the most spectacular views in Israel. Below is the Mediterranean coastline and fish ponds of the neighboring kibbuzim. The Carmel Gardens Congress and Resort Hotel offers a perfect combination of congress, conference and convention center together with leisure facilities for all the family.
Large Out-Door Pool and Children's Play Area
FACILITIES - The hotel is spread over acres of verdant land, with manicured lawns, nature brush, and beautifully kept gardens. The delightful pool is surrounded by ancient olive trees, and the children's play area overlooks the pastoral mountainside landscape.
ADVENTURE - There is a wealth of sporting and active leisure activities to be enjoyed in the area: golf, horse riding, jeep safaris, parasailing, and a children's fun and games park. There are trips to the Zichron winery, the Hanadiv park, and other attractions in the area. Nearby is the Dor swimming beach which offers a wide variety of summer activities
Grass Laden Terraces and Gardens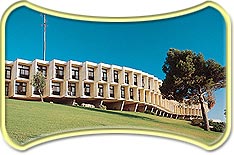 TO VISIT - The hotel is only 45 minutes highway drive to Tel Aviv, 20 minutes from Haifa, one hour to Ben-Gurion airport. Zichron Yaacov is a short drive from the Roman and Crusader antiquities at Caesarea, where concerts are still held in the 3000 seat amphiteater. Also close by is the Caesarea Golf Club, and the artists Village in Ein Hod. For nature lovers there is bird watching at Maagan Michael and the Nahal Hataninim nature reserve offering a wide range of Fauna and Flora.
ROOMS - Attractive, air-conditioned guestrooms with cable TV, direct dial telephone and other pampering amenities.The rooms offer a panoramic view of the Carmel Mountains gently sloping down to meet the Mediterranean Sea
CONVENTIONS - The Carmel Gardens has a separate congress floor with an auditorium and 12 meeting rooms of various sizes that are perfectly suited for all types of events.
Our conference services department can deliver a wide choice of advanced congress facilities and accessories. The hotel also has a choice of outdoor spaces suitable for private or business functions: a natural amphitheater, the poolside area with full illumination, and the olive tree garden which can cater events for up to 700 participants.