Leonardo Club Hotel, Tiberias
All inclusive!
Please click HERE for on-line reservations
Location
The Leonardo Club Hotel is conveniently situated in the heart of the Old City, adjacent to all the tourists attractions and just a short walking distance from the
shores of Lake Galilee and its enchanting promenade. Tiberias.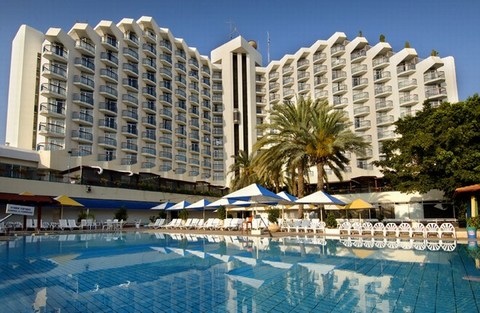 A resort hotel in the heart of Tiberias, the Leonardo club is within walking distance of the promenade and the Sea of Galileeshore. The hotel operates in an "all-inclusive" format, offering everything you need for an unforgettable vacation experience. It has 400 luxurious rooms with private balconies that overlook the Sea of Galilee, the swimming pool, and the ancient city of Tiberias. The hotel also features a banquet hall for hosting 300 people. Enjoy a unique "all-inclusive" gastronomic experience filled with 3 delicious meals daily, unlimited drinks throughout the day, and coffee and cake every afternoon.
Built in 1984, the Leonardo club Tiberias has 10 floors, 395 rooms and 4 elevators. In 2006, it underwent renovations to its night club and poolside snack bar, all the guestrooms were repainted, the dining room was remodeled, and the entrance lobby furniture was replaced.
Attractions in the Hotelís Vicinity
The area around the hotel contains a rich selection of attractions including Luna Gal water park, Tiberias Hot Springs, Hamat Gader spa and a cruise on the Sea of Galilee.
The Tiberias Promenade is just a few minutesí walk of the hotel.
Please click HERE for on-line reservations
Click on the arrow below to see a video of the hotel
Please click HERE for on-line reservations
Leonardo Club Hotel, Tiberias