U Suites
Eilat hotel, a prestigious seaside hotel
, opened its doors in January 1999 as the flagship of Fattal Hotel Management.

U Suites, owned by Hof Almog, is the first hotel managed by Fattal Hotel Management since the company was established.
The hotel's clean; European design lines extend to the beach where a tanning pier has been constructed. Built entirely out of wood, the pier covers the entire breadth of the beach and extends to the pool grounds. The pier is built in accordance with the company's nature protection requirements in order to safeguard the area's natural coral reefs.
Yehuda Feigen, hotel architect, and Ezra Attia of London, interior designer designed the hotel to reflect the personal taste of Leora Ofer, CEO of Hof Almog. The Ofer Brothers, owners of Hof Almog, have invested approximately 70 million dollars to establish the hotel. They have succeeded in creating a serene and highly intimate atmosphere combined with impeccably designed elegance.
Since it's opening, U Suites has solidified its status as the only hotel in Eilat that combines an intimate, romantic atmosphere and luxury, elegance and prestige. As such it has become the favorite vacation spot for celebrities, government ministers and TV stars.
U Suites offers a wide range of suites featuring various luxury levels. The hotel features 245 luxurious suites designed and built to unusually high standards. . Each suite at U Suites is larger than any other hotel room in the city, whether it is one of the 180 deluxe suites or one of the 65 choice suites. Each guest can choose from the following list of special suites:
Deluxe Suites - facing the sea or poolside, our deluxe suites include a beautifully designed bedroom, living room, balcony, intimate sitting area and coffee corner with a well-stocked mini-bar and personal safe. The suite also features a luxurious bathroom, 2 color cable televisions and 3 telephones. The balcony features natural wooden garden furniture.
Maximum occupancy – two adults and two children, or three adults
Royal Meridien Suites – overlooking the sea, these spacious suites feature two beautifully designed bedrooms, living room, intimate sitting area, coffee corner and well-stocked mini-bar, two luxurious bathrooms, 3 color cable televisions and 4 telephones, a personal safe and a lovely sunlit terrace including sun-beds to laze the day away.
Maximum occupancy – two adults and three children, or four adults
Garden Suites - these garden suites feature a private seaside lawn with a Jacuzzi and private entrance to the pool and seaside. They include two beautifully designed bedrooms, living room, intimate sitting area, coffee corner and well-stocked mini-bar as well as two luxurious bathrooms, 3 color cable televisions, 4 telephones and a personal safe.
Maximum occupancy – two adults and three children, or four adults.
Presidential Suites – these exclusively designed, luxurious sea-view suites include a large balcony with a Jacuzzi and sun-beds, two to three beautiful bedrooms, a living room, two bathrooms and an intimate dining area.

The hotel is situated on the glimmering shores of the Red Sea, perfectly nestled between the stunning Gulf of Eilat and the Red Mountains. It is close to the promenade, and within easy walking distance of the shopping mall near the sea.





Outdoor Facilities
Our outdoor facilities include a private beach, a large, beautiful pool and a shaded pool for children.

Restaurants and Cafes

The Fattal Hotel chain has opened its flagship restaurant at U Suites Eilat: the "Retro"restaurant, which presents a New Middle East- with a culinary slant
Israel's famous chefs, Israel Aharoni and Rafi Cohen, the advisers and the culinary consultants of the restaurant, have put together a menu based upon Middle Eastern food, giving it a modern interpretation, new and innovative, while using fresh food and spices characteristic of the rich and varied kitchens on the Middle East.

The restaurant is located alongside the pool at the "Meridien Hotel" in Eilat and is near the beautiful "Brasserie" Restaurant headed by the chef Levi Ochayon the hotels chef who is one of the leading chefs in Israel and who is well known for his expertise in engaging the west and east flavors. .
Poolside and Seaside snack bars, offering an appetizing array of dishes and beverages
Serene lounge offering a selection of drinks and snacks
Coral Pub – our special entertainment area featuring sophisticated light and sound equipment, a dance floor and a bar with a team of singing waiters. (The shows can be viewed from your rooms via our closed-circuit television system.)
CYBEX SPA and Health Club
Let yourself be pampered with a luxurious spa and health club including 9 specially designed beauty treatment rooms, fully-equipped fitness room, personal trainer, wet and dry sauna, Jacuzzi and health and beauty treatments of all kinds.

Children's Activities
Our colorful, fun-filled Kid's Club offers your children hours of amusement including games and creative activities. (You can watch your children at play via our closed-circuit television system.)

Conference and Banquet Halls
The last word in design and comfort. U Suites Eilat includes two exquisite conference and banquet halls and accommodates up to 480 people in either theatre-style seating or round tables.











Click on the thumbnails to view the full picture.



Prestigious Hotel



Front View




Pool View



Red Sea Shore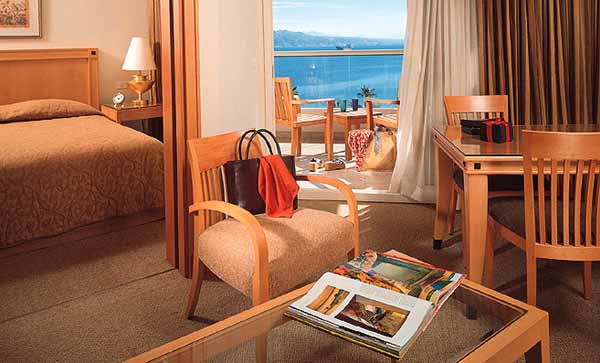 Elegant Rooms