The hotel has 76 rooms for couples and families. All rooms are renovated and renewed, and much thought has been invested to ensure complete comfort and modern facilities, as well as suitability for religiously observant guests. Each room has individually adjustable air-conditioning and an en suite bathroom, and is fully equipped with a radio, mini-bar, safe and telephone with international direct dialing, while a television may be requested in advance.

The hotel also has a room suitable for guests with disabilities that includes a wide entrance to the bathroom and various accessories such as handrails for optimal ease and comfort.

The hotel has eight adjoining rooms.

- Breakfast and Dinner are served daily, buffet-style in the Shoham and Barrakat Halls on the Hotel's entrance level. On Shabbat and Holidays, lunch is served, and there is waiter service for all meals.

- The hotel's elegant and intimate lobby provides a welcoming refuge away from the hustle and bustle of the City center. Our courtyard entrance is furnished with tables and chairs and is the perfect place to enjoy tea or coffee in the spring, autumn, and Summer evenings.

- Synagogue with Sefer Torah

Two Shabbat Elevators

Kashrut: Agudat Yisrael and Jerusalem Rabbinate

Keys: non-electronic

Shabbat clocks are not available

- Men's and Women's Mikvot available on-site - Laundry and dry cleaning services are available at the hotel for at supplementary fee.
- Equipped with irons and ironing boards for guests' use.

Supplies and equipment to facilitate your event are provided, including: flip-charts, writing pad and pen for each participant, overhead projector, slide projector and microphone. Also, refreshments are available at an additional charge, including baked goods, snacks, and cold and hot beverages.

Shoham and Barakat Rooms: Two new, luxurious halls facing a sunny, landscaped interior courtyard. Capacity for each room: 150 people at tables; 60 in a "U" formation; 80 in an oval formation; 180 in theater formation.

Yahalom Hall: A grand, spacious ballroom, suitable for family events and receptions. Capacity: 450 people at tables; 200 in a "U" or oval formation; 750 in theater formation. Can be configured as four individual halls, using an acoustic wall system, for smaller groups: capacity 100 people at tables in each divided hall.

Conference Room: A well equipped and luxurious room for meetings or study groups. Capacity: 15 people at a grand table.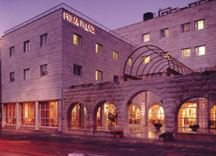 Prima palace front view

Prima palace room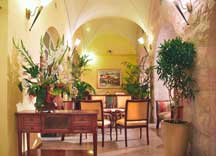 Prima palace lobby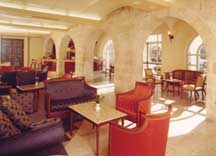 Prima palace lobby