The Shulamit Hotel, Haifa
15, Kiryat Sefer St, Mount Carmel, Haifa, Post Box 7060.
Please click HERE for on-line reservations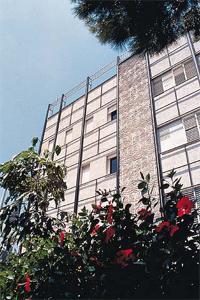 For a number of years now the Hotel Shulamit Haifa has been like a second home for countless visitors to Haifa.

We are situated in a picturesque locale on Mount Carmel and offer an excellent cuisine, polite and attentive service, as well as pleasant and comfortable rooms. All this contributes to the genuine holiday atmosphere you will experience when you stay with us.

One of the most outstanding attributes of the Hotel Shulamit is the personal service we afford each and every guest from the moment he or she steps into our hotel and which you can sense immediately on arrival. In addition, the convenient location of our hotel makes it much easier for you to access all the Haifa museums and theatres, the shopping malls, beaches and the golden Carmel forests, as well as, last but not least, Haifa University and the Technion.

Our hotel provides 70 guest rooms, which are also suitable for families. Each room contains a bath, toilet, TV and so on and so forth.

The dining room offers you a tasty and varied Israeli breakfast, as well as excellent cuisine for lunch and dinner.

All guests are invited to take part in the many activities which are organised in Haifa (free all year round). It is also possible to organise study days, conferences, and family events holding up to two hundred people in one of the large halls here in the hotel.
Please click HERE for on-line reservations
More Israel hotels